A Knit Idea
Sweaters: Icons and Selections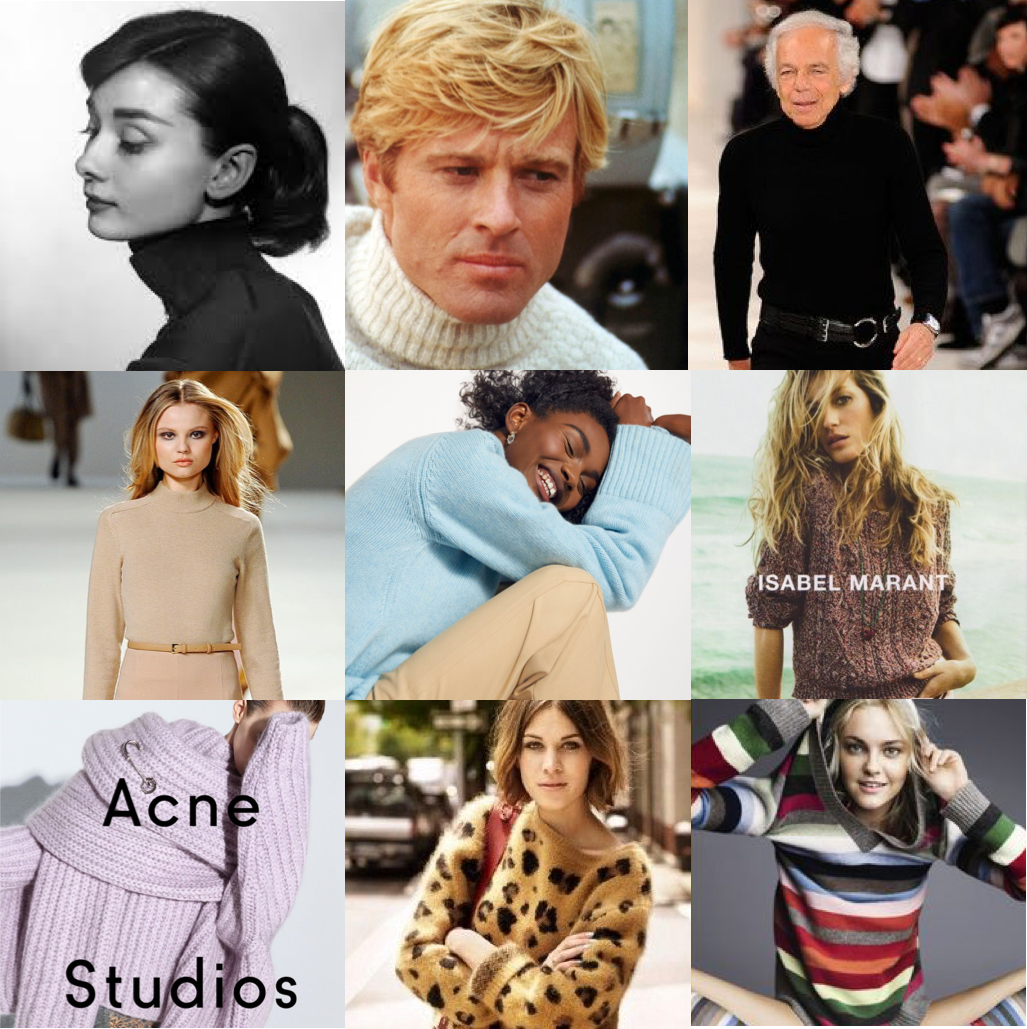 Images of iconic figures in knitted items 
There is something fuzzy about untucking a box of winter clothes and swapping them out with my summer linens and dresses.
It feels strangely comforting to see the old, familiar knitted things – the colors, the shapes, the weight, and the smell of dry leaves and cold snowstorms. I am suddenly transported back to earlier this year when it was brutally cold in New York City. Rumor has it that this winter's going to be just as cold, but luckily, sweaters are guaranteed to keep us cozy and warm from the transitional weather to the season of snowstorms.  
Whether you wear it solo or layer with a blazer or a button-down, sweater is one of the most versatile building blocks that is guaranteed to last through many seasons to come.
Here's our selection of sustainable and luxury sweaters for this season. For those who find sweaters stuffy, it is key to find fabrics that are made of natural materials, not polyester that traps heat and feels rough on your skin. Not to mention we are generally not a fan of plastic clothing. This is especially true for turtlenecks that covers up to your neck (duh), and I find a world of difference in cashmere/silk blend to that of polyamide and nylon. Bored of essential and beige? Try Kordal Studio's fair isle sweater, knit of bold contrasting colors that is guaranteed to make you stand out from the crowd.     
Beige and Neutral Turtlenecks
1. Céline wool-blend sweater
An iconic design embodying the epitome of simple and nonchalant French chic. Product of Phoebe Philo before she left Céline, get this sweater if you are looking to build staple pieces to your wardrobe. Throw a cream-colored coats and your favorite denim with a chunky heel. 
Material: 47% Viscose, 43% Wool, 8% Polyamide, 2% Elastane
Price: $475, Size M only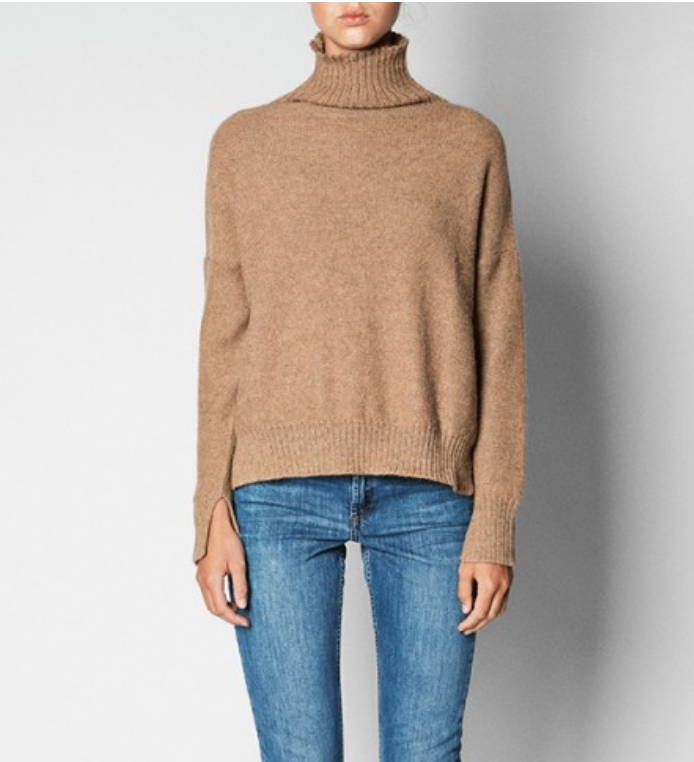 2. Nayana Turtleneck Sweater
Loose fit turtleneck sweater with dropped shoulders and a visible, outside shoulder seam. The hem and sleeves have a long straight rib border and slits, which give it a nice boxy fit. Elegant and classic style with plenty of edge.
Aiayu is a Danish brand pioneering the world of luxury & sustainable fashion whose design is defined by timeless elegance and commitment to sourcing the finest materials in the most ethical way. 
Material: 100% llama Wool sourced from WRAP (worldwide responsible accredited production) certified factory in Bolivia.
Price: DKK2,399, or approximately $368 
Micaela Greg is a knitwear focused ready-to-wear collection designed by Marie and Karen Potesta. The collection is comprised of super soft knits and thoughtfully designed wovens that emphasize impeccable craft and timeless modernity. The sisters focus on designing quality, made to last garments with ethical manufacturing at the heart of the brand. 
Material: 60% baby alpaca, 35% polymide, 5% wool
Made in Peru
Price: $230
4. The Cashmere Square Turtleneck
If you find turtlenecks restricting, try cashmere or silk blend that's breathable and not water-repellent. Everlane's turtleneck features square cropped silhouette that provides perfect neck length for warmth and comfort.
Material: 100% Cashmere
Trimmings: 90% Cashmere 9% Nylon 1% Elastane
Price: $150
5. Turtleneck Beige Wool Jumper
The Row by Vestiaire Collective
Classic and timeless, this airy turtleneck sweater is another winter staple. Throw a plaid, brown jacket over with a chunky heel and you are ready to go. Channel your inner Robert Robert in The Row's beige wool jumper. 
Material: Ecru & Wool
Price: $350, Size XS only
Systéme De Valeurs was founded in 2017 by a Canadian designer-duo who wanted to create classic and lasting pieces for your wardrobe. 
Spun in Peru with the finest alpaca wool sourced responsibly and ethically, this un-dyed sweater is hypoallergenic and soft for your skin. Cozy yet light, classic yet modern. Experience sustainable luxury when you touch and put on Bienville sweater. 
Material: 100% Hypoallergenic baby alpaca from Peru
Price: $585 to own
         $300 to rent for this season (Nov-Jan) Inquire at hello@the-sloth.com
7. Lantern Sleeve Cashmere Sweater
100% cashmere knit in a gorgeous rib with a warm feel, the sleeve billows out above the wrist and then finishes with a long fitted cuff.
Material: 100% Cashmere, Oeko Tex certified & spun in Italy by Cariaggi. 
Knitted in Scotland by Johnstons of Elgin
Price: $455
Handloom-knit with the finest blend of Suri alpaca and merino wool yarn. Suri is a rarer breed of alpaca that yields longer and softer yarn, making it a popular choice for luxury designer brands. 
Made as a fully fashioned product (meaning zero waste), Kordal's reinterpretation of the traditional fair isle pattern with bold color is fresh and modern. 
Material: 74% Suri Alpaca, 22% Wool, 4% Poly
Price: $325 to own
         $150 to rent this season (Nov-Jan)       
Inquire at hello@the-sloth.com
9. Lilac cashmere crewneck
This cozy sweater masters a slight slouch with angled twist at the waist for that careless chic feel in the cold. The subtle lilac shade is also a standout from usual camel and navy. 
Naadmm is an ethical cashmere brand that responsibly sources & produces luxury knitwear while preserving nomadic lifestyle in Mongolia. 
Price: $150 (promo available after sign-up)